Borderlands starts off with you choosing one of the four playable classes. Each one of them has a unique set of strengths and special abilities. You have Mordecai (The Hunter), Roland (The Soldier), Lilith (The Siren), and Brick (The Berserker). Each one of them has their own special abilities (such as Roland's Turret, or Lilith's Phasewalk) as well as proficiency with weapons (Mordecai is better with Sniper Rifles, Brick is better with Shotguns, etc.). After choosing your class, you will then be told to name your character, and color his or her clothing to make them some what unique. Following the completion of the in game tutorial, you will then be left alone to fend for yourself.
Left to right: Roland, Lilith, Brick, and Mordecai
The quest mechanics of the game are simple. Talk to someone. Get a quest. Most of the quests involve going from point A to point B, collecting parts, or killing someone. But strangely, this never seems to get repetitive. I had fun hunting down guys such as Sledge and Scar, but the scavanger missions can be quite annoying at times (more on that later). The best part though, is that you can accept multiple missions at once, rather than having to accept one, complete, accept one, complete, etc. You can accept as many as you want, go finish them all at your leisure, then return to collect the rewards. Speaking of which, you are rewarded for all quests completed. You will always get a fare sum of money, and or a piece of equipment of some sorts. You will also get a very nice amount of experience to go towards you leveling.
The leveling system works flawlessly. After accumulating enough experience points (like most RPGs) you will go up a level. You get experience for killing stuff, completing quests, and completing challenges (such as killing a set number of guys, roadkills, weapons sold, etc.). Which each level (up to 50), you get one skill point to put into anyone of the many skills your character has, the first one being your character's main special ability. At first, only a few of the skills are usable, but after gaining a few levels, another row of skills becomes available to you. One of the things I found handy was the option to reset all of your skills. Say you put a point into a skill you didn't want. No longer do you need to remake that character. You can now pay a set fee and reset all your skills, and get all your skill points back to do whatever you want to do with them. A good feature to have if you feel like experimenting with skills, without having to make a new character.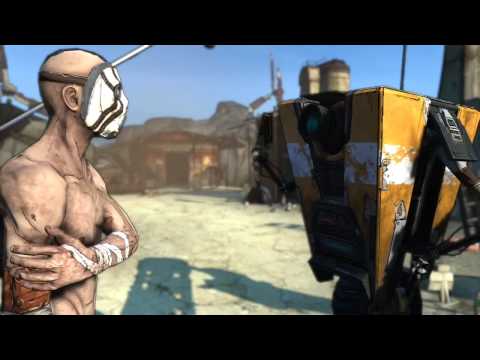 "Whats it gonna take for a suicide bomber to get his balls to drop?"
The loot system works similar to Diablo 2 and World of Warcraft. After killing a monster, opening a chest or whatever, loot will drop. May it be guns, ammo, or money, it is all dropped onto the ground and it them becomes a free-for-all between you and who ever you maybe playing with. Whatever is picked up is thrown into your inventory. You can always check the states of the item that is on the ground before you pick it up (thanks to a handy pop up) and even if you pick something up by mistake, it isn't hard to drop it again from the inventory screen. All items have a rarity and can be seen by the color of the items name (white being the most common to orange being the rarest). It is almost guaranteed that you will never find two of the same gun (excluding some of the bosses weapons) as there are apparently a 'bazillion' guns, each one having its own damage, recoil, firing speed, as well as a variety of little bonuses (elemental damage, zoom, bigger magazines, etc.).
One of the best features in this game is the co-op. Though I have only spent a couple hours with this, I can say co-op is definitely more fun that playing alone! Borderlands follows a simple drop in, drop out playing style where you or anyone (up to four people) can join a game and leave without forcing everybody to leave as well. For every person in the game, the monsters get significantly more challenging and harder to kill. An enemy that may have taken you only mere bullets to kill before could now take up to two full clips before being brought down. But of course, with bigger risks comes better rewards. You will find much rarer loot as well as gaining more experience or a kill than if you were alone. Also, if someone else in your game makes a kill, you will be rewarded experience as well.
Of course, this game doesn't come without a few issues. One thing that bugged me was the lack of enemy variety. You only have about five types of enemies to kill. Even though there are different classifications of them (like long range ones, close range ones, etc.) and the rarer 'Badass' versions of the monsters, it gets a tad repetitive running into your 1000th Skag even after 3 hours or so of game play. Another complaint is the driving mechanics. It seems a lot like they were trying to go with Halo's Warthog style of control, but it doesn't handle near as well as the iconic vehicle's controls. The worst part about the driving is how easy you can get stuck on the environment. I can't even count all the times I've gotten stuck on a small rock, a piece or debris, or even a seemingly flat object. It isn't game breaking, but it is certainly annoying! Another thing that I mentioned earlier was the scavenger missions. When you start one of these, a marker will be put on you map on where the first piece is. But unlike other missions, where it shows you exactly wear your target is, it just gives you the general location of where all the pieces are. It gets annoying when you need one final part and you only find it by accident when walking through a patch of grass, realizing you just wasted 15 minutes trying to find the damn thing. Finally, the graphics don't always load right away. Most times you load up a new area, the details on your guns or the environment take several minutes to load before you can see all the nice details. This will bug those who care a lot about graphic in a game, but others will probably look over it.
"Pidgeotto! Use Tackle Attack!"
In conclusion, Borderlands is an amazing game with wonderful qualities. It has a beautiful art style, a fun cooperative experience, and a 'bazillion' gun to collect and experiment with. With plenty of missions to complete, bandits to kill, and levels to gain, this is a game you will want to play again and again. I definitely recommend you go pick up Borderlands for the Xbox 360 or PS3.