This is going to be a somewhat crummy music week but whatever. There is always next time and hopefully half of you will find at least one thing of interest here. Apologies to those whom (I know) already know most if not all of these, and to those whom (I figure) may not find anything of interest. My main regret was that I didn't find anything really for those who want to rock hard. Also I didn't leave the realm of metal very much as I had planned to. Regardless I will present with enthusiasm. Feel free to omit listens as you please.
---
1.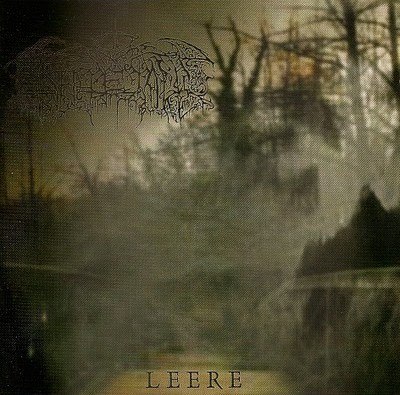 Kδltetod - Leere
(2005)
1. "Wiederhall der Leere" – 11:32
2. "Kδltetod" – 9:05
3. "Von Vertrauter Vergδnglichkeit" – 14:08
4. "Appendix: Hypnos" – 8:01
---
This is one of my favorite albums of all times. There are 50 tapes out there of this and if anyone is interested in hunting one down ask me and I'll see if I can find the place where I got mine, and if there are any left. I've mentioned this album a few times before but I have a feeling not many people checked it out. Maybe a couple did. Anyways if I had to describe this music I'd say it's something like, "an otherworldly blizzard rampaging the side of a slanted planar snow mountain, extending infinitely in all directions under a black sky of most private dreams." Or I'd say that the music resembles depressive suicidal black metal, only it isn't depressive. It is very emotional, atmospheric, and expressive. The first song, right from the start, instills that feeling of being taken away to a home far away before unleashing one of the most powerfully atmospheric and emotional onslaughts I've ever heard. The second song slows down and for me I lost interest at this point because I was so amazed by the first song, but as time went on I discovered that this song, while not like the first song, is very good in its own way. Songs 2 and 3 are both slower and less dramatic but contain an amazing amount of atmosphere and some extremely melodious pieces. Then song 4 starts with another amazing introduction akin to the first song. It then goes into a slightly less interesting part, but goddamn that introduction! Beautiful.
-
http://suicidal-depressive.blogspot.com/2008/10/kltetod-leere-2005.html
http://www.megaupload.com/?d=GBV20B0Q
pass: suicidal-depressive
==========
2.
Aeternus - ...and So the Night Became
(1998)
1. There's No Wine Like the Blood's Crimson – 13:02
2. As I March – 6:24
3. Warrior of the Crescent Moon – 9:23
4. Blodsverging – 6:21
5. When the Crow's Shadow Falls – 7:59
6. Ild dans – 8:12
7. ...and So the Night Became – 6:17
8. Fyrndeheimen – 6:00
---
I feel this is my least interesting pick for the music week for whatever reason, even though it is a great album. Contained here is some epic blackened death metal complete with war-like drums. In this album you join the dark forces back in olden days while they prepare and systematically conquer lands with unstoppable war-lust and might. The album goes like a book and contains some timeless and beautiful pieces. The beginning of the third song is perhaps unfairly beautiful because it stands out so much in the album. If you came here for death metal ignore everything else and get just this album.
-
http://blackmetalownsyou.blogspot.com/2007/06/aeternus_20.html
http://rapidshare.com/files/38318215/Aeternus_-_And_So_The_Night_Became___1998__.rar
pass: attila
==========
3.
Endless Dismal Moan - Endless Dismal Moan
(2004)
1. "Spell" – 0:09
2. "Obsession" – 5:45
3. "From Ominous" – 3:34
4. "Calamitous Box "– 4:06
5. "Goddess of Death" – 3:25
6. "Vampire" – 4:02
7. "Gloom" – 3:06
8. "Endless Dismal Moan 2" – 2:47
9. "Talking Mind (EDM 3)" – 6:36
10. "Abyss" – 8:33
11. "Chaos (Intro)" – 1:52
12. "Kitigai" – 3:57
13. "Bloody Claws" – 3:30
14. "Endless Dismal Moan" – 5:00
15. "Calamity" – 1:34
16. "Death Odor" – 7:54
17. "Untitled" – 0:06
---
So out of the four albums in my music week this is the only one that is fairly recent to me. Great credit goes to blackstar for showing me this band. At first I just had a few favorite songs by this band that I would listen to on Youtube, but I finally got around to downloading one of the albums a few nights ago. And I have to say I was not disappointed by the album performance. In fact it completely blows the song-by-song experience out of the water. Hearing just the songs by this band does not do it justice. The music has a kind of old Cradle of Filth feel to it, only far more raw and disgusting, and instead of a gothic tinge it is dripping with bleak lonely nightmares. Completely lifeless and devoid black metal.
-
http://blackmetalownsyou.blogspot.com/2008/03/endless-dismal-moan.html
http://rapidshare.com/files/182362099/Endless_Dismal_Moan_-_2004_-_Self_Titled.7z
==========
4.
Hizaki Grace Project - Ruined Kingdom
(2007)
1. "Ruined Kingdom" – 5:47
2. "dark passage" – 4:29
3. "Distorted Thought" – 4:12
4. "Ritual" – 6:03
5. "solitude" – 5:57
6. "cradle" – 4:15
7. "Hover mind" – 3:29
8. "独裁者の渇望" (Dokusaisha no Katsubou) – 4:16
9. "Philosopher" – 5:13
10. "Everlasting Dream" – 7:08
---
Here is the last pick, and it is the one that is supposed to fill the "colorful slot" on the roster. Genre-wise this is symphonic power metal, but what one might envision based on that description could be misleading. First of all, the thing that will probably stand out for most people, is the vocals. From what I know they are basically Japanese rock vocals. In other words, if you aren't used to that kind of thing, you might need a bit of an open mind. Also the music itself doesn't really paint the image of fierce dragons and fearless sword-wielding warriors ravaging the tundras, but rather something more like a zealous love story that takes place in a conveniently drama-filled Gothic setting. If you're still interested then I would recommend checking this out. It has some pretty enjoyable neoclassical guitar bits throughout. The music and choruses are pretty emotional overall. I like this album quite a bit, and it should be noted that tracks 4-10 were recorded live. You'll definitely realize that in the last song where the audience does some (good) singing. Oh and the occasional "tough/cool guy" vocals on this album are abysmal, but whatever. I don't mind them too much. Somehow this is one of my favorite albums and I don't believe I've ever brought that up. Slightly embarrassing? Good riddance.
-
http://canalla-metal.blogspot.com/2008/03/hizaki-grace-project-ruined-kingdom.html
http://www.megaupload.com/?d=JS12DJ4G
==========
That is all.
EDIT: made announcement and added poll---brute