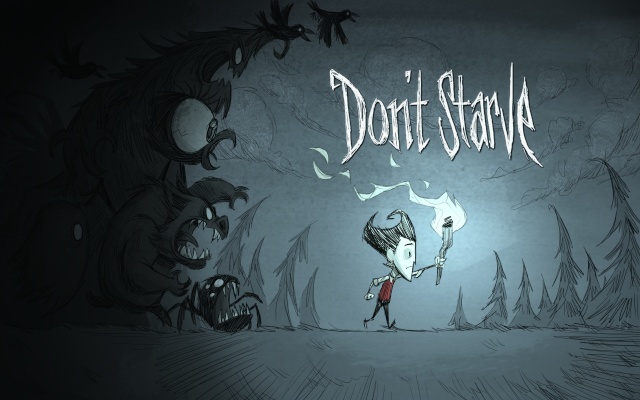 Minecraft has become a classic in gaming. Survival, exploration, creation all thrown into a randomly generated world not only made for a refreshing gaming experience, it also spawned a new genre in gaming. Without really a proper name, we'll just call it survival-building-randomlygenerated-exploration-funtime.
Plenty of survival-building-randomlygenerated-exploration-funtime games have come out since minecraft, most of which seemed like simple knock-offs with minor twists to the formula.
Oh, the game is in 2d? You're so radical!
Some of these games were fun, even if devoid of much originality or features to set it apart from the Godfather of the game-style. This is the single biggest aspect that sets Don't Starve apart from the crowd. Don't Starve is a survival-building-randomlygenerated-exploration-funtime game, and Don't Starve is one of the most brilliant and original games I've ever played.
The description so far makes it seem like it is quite like Minecraft, and while it shares the same premise, survive, build, explore, collect, that's where the similarities end. It's much like how Grand Theft Auto and the Legend of Zelda could both be considered open world action/adventure games. The way the game is presented drastically shifts the focus of the game. It is less about building giant, random creations and more about making discoveries, experimenting, and above all, surviving. Death is the scariest thing in the game, because it is absolutely permanent. No going back to load a save file to try again, you start from scratch each and every time, trying to get your "days survived" counter even higher than before. At this point I'm not sure if there is an endgame, even though I've probably sunk 20 hours or so into it. The thrill of constantly discovering new things and learning new ways to get past the many hazards and dangers is an addictive and rewarding formula. There are a few moments of despair upon losing all the progress you worked so hard to achieve, but your mind quickly switches gears to what you can change the next time around.
The fact is, you never really feel safe in Don't Starve. There are many dangers known, but at any given time you may discover something that you never encountered before, or be in a different situation that you are not equip ed to deal with. What's more, you have health, sanity and hunger to worry about. It's a bit to juggle, but it makes it incredibly satisfying to last longer than you did before as you learn and become better. The game does a great job of introducing you into a familiar, yet strange land which makes for a wonderful premise. Starting out, you wake up on the ground to find a suit-wearing man, who suggests that you find something to eat before night falls. That is the only hint the game gives you (as if you probably couldn't figure out you needed to do that from the ambiguous title.) You then wander through forests, grassy plains, rocky bluffs, swamps and more in an attempt to continue your existence by one day at a time.
Risk/reward is yet another huge aspect to the game. You are constantly presented with choices. For example, your health has gotten low and you need to gather honey from a nearby beehive to make a healing salve. The problem is, do you risk certain death at the hands of viscous bees to get that essential reagent, or do you avoid it and find other ways to heal yourself? Or maybe you are starving, and all you have are mysterious green mushrooms you found in the forest. Do you risk eating them for nourishment, even if it could be hazardous to your health or cause your sanity to go down because of hallucinations? It's these situations that make the game a challenge each and every time, and it's these that make it and addicting and intriguing experience.
As you play, you uncover new recipes, new equipment, new creatures, new items and new events. I'm on my fourth attempt currently and I am still uncovering new things and learning new ways to deal with situations. There is no danger of running out of stuff to do, either, because the developer is promising regular updates.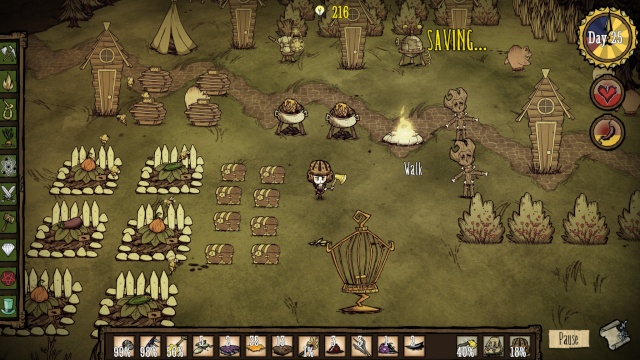 The game play is phenomenal, and it is only complemented by it's art style and sound. The graphics are 2D, and very Tim Burton inspired. I'm not personally a fan of Tim Burton's work, but this art fits wonderfully with the game. It's quirky, creepy and whimsical. The effects of insanity change up the way things look, and adds even more of a creepy overtone to the game with crazy looking apparitions and unsettling sound effects. The sound, otherwise, offers an interesting and quirky soundtrack, and pleasant ambient and nature sounds. It's unsettling when it needs to be, and pleasant the rest of the time. Not the most mind-blowing sound design I've ever heard, but it gets the job done and with style.
Style is quite honestly the best word to describe Don't Starve. It not only has stylish graphics and sound, but innovative game play that offers a unique experience. It does things it's own way, and that's what sets it apart from the crowd of similar games. So, rather than being megablocks to lego, it's more like tinker toy to lego. The features of the games may be similar, but the goals and foci end up being completely different. And, for about 15 dollars, you get a lot of value. I've played this game more than a lot of fully priced 60 dollar titles, and I'm showing no signs of slowing down.
Outstanding!
4.75/5